How to Play My Bingo Games
All of the printed UnCommon Courtesy bingo games include the game cards, plastic tokens*, and calling cards. Cut up the calling card sheets and place the cards into a bowl or other festive container.
If you are downloading the game, you'll be printing the set yourself, as well as coming up with something festive to cover the squares. If you would like to order plastic chips (like the ones that come with the printed sets), you'll find a link to buy them as you scroll down the left side of the page.
Both the printed and downloaded versions of any game comes with both game cards and calling cards that have the same image that are on the cards. The calling cards are drawn from some type of container, and the players cover the square if it is on the playing card. You can be creative in the way that players can get "bingo" including horizontal, vertical, or diagonal rows, blackout bingo, corner cover bingo, etc. It's all up to you!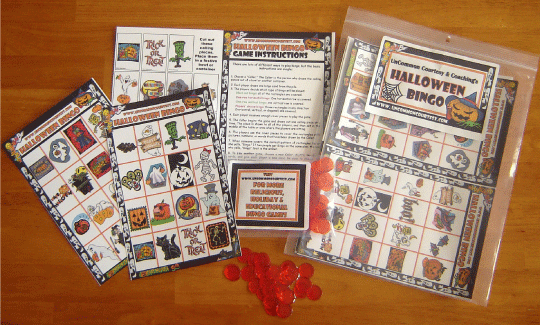 Caution: Small plastic tokens represent a choking for young children. Be sure to supervise young children appropriately and tell them not to place the chips in their mouths.